14,378 HEANEY members

around the world
Stay informed about HEANEY Family online & offline events!
See one of our recent Ireland101 Tribe Gatherings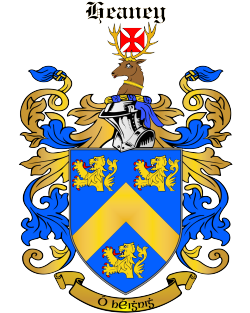 HEANEY Family History
Recorded as O'Heaney, O'Henaghan, Hegney, Hanney, Heaney, Heeney and Hiney, this is an Anglo-Irish surname. If of Irish origins it derives from the pre 10th century name O' hEighnigh, believed to translate as "The descendant of the son of Bird" , although this translation is open to considerable discussion. The surname is found most often in the counties of Armagh and Louth, although it is said that in the 12th century one Teag O' hEighnigh was chief of Fermanagh. In its various spellings the name is also confused with the Scottish Hannay from the unidentified place, although to add to the confusion there is a place called Hanney in the English county of Berkshire, which has given rise to many different spellings...